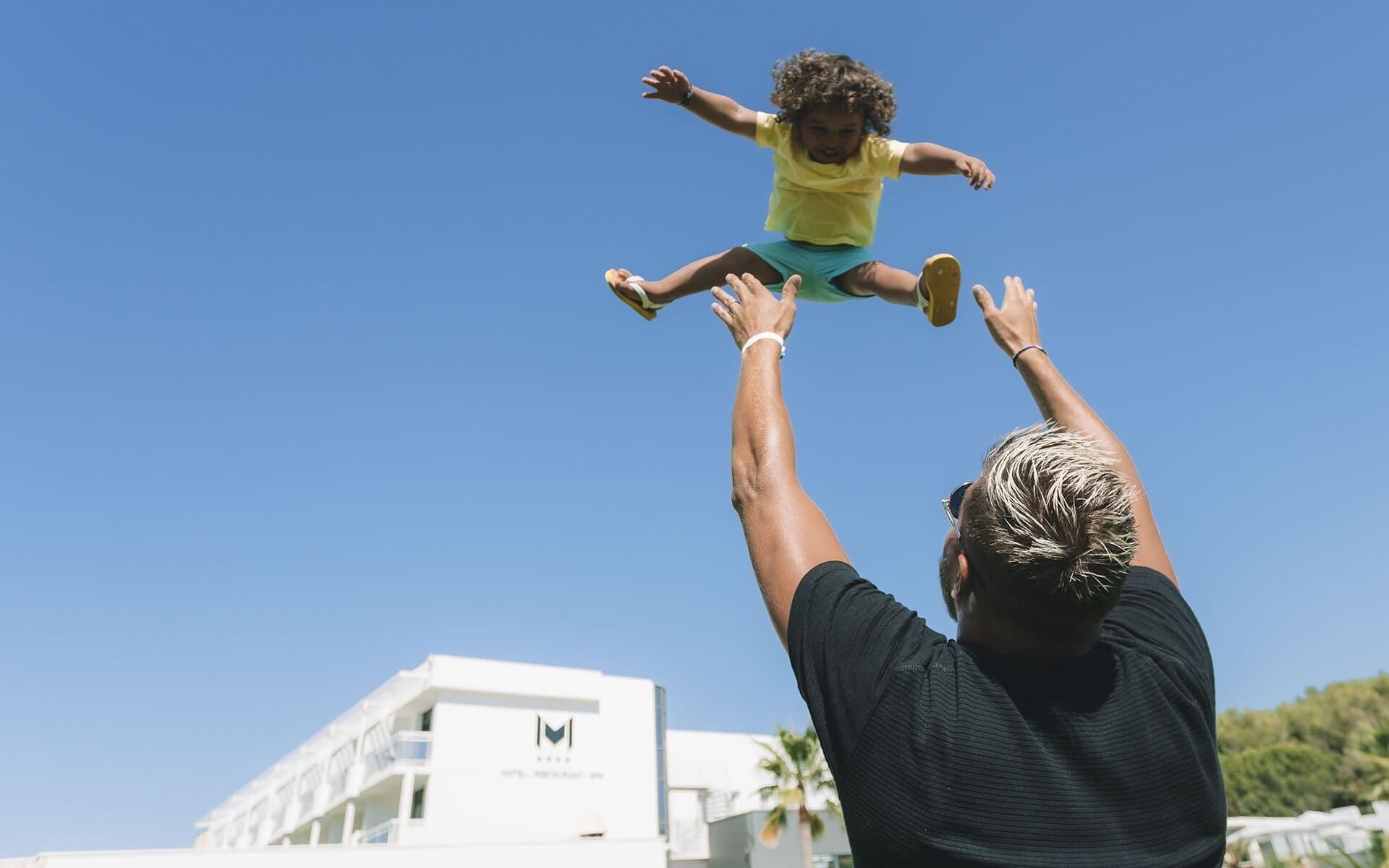 Top 10 Outdoor Family Activities
The French Riviera is home to numerous leisure activities, but let's focus on the Top 10 outdoor activities that will delight your children.
OUR SELECTION OF THE TOP 10 FREE ACTIVITIES ON THE FRENCH RIVIERA.
Going on a summer vacation with children can sometimes be challenging. We have chosen for you the 10 best free outdoor activities to do as a family. Whether you are on a weekend or vacation on the French Riviera, the Mouratoglou Hotel & Resort is the ideal hotel to discover these 10 family outings. Guaranteed entertainment for your children, leaving them with memories they will cherish.
1. Promenade du Paillon (Nice):
Located in the heart of Nice, this park features giant wooden animal-shaped play structures along the Coulée verte. It's a relaxing spot to enjoy the sunshine of the French Riviera while watching children play. Water fountains in the park allow kids to cool off between the jets for their enjoyment. More information
2. Eco Parc (Mougins):
Focused on sustainability, this 1000m2 playground is dedicated to families with children. Situated a few kilometers from Cannes, it offers various acrobatic courses, slides, and wooden play structures that appeal to children aged 2 to 12. Picnic tables and dry toilets are also available. More information
3. Fort Carré (Antibes):
Rich in history and sports events with its athletics track, Fort Carré dedicates its weekends to the little ones for a playful scooter moment. More information
4. Parc des Bouillides (Sophia-Antipolis):
Ideal for ball games, cycling, or scootering, Parc des Bouillides also has a play area for children. More information.
5. Le Monde de Yosi" Parc de Vaugrenier (Villeneuve-Loubet):
A comprehensive playground near Nice with bike rides, picnic tables, ball games, and large spiderweb structures, offering activities to enhance your children's agility. More information
6. Medieval-themed Castle Park (Villeneuve-loubet):
An age-diverse park centered around the medieval theme, educating both young and old about history while having fun.
7. Eco Parc des Plans Escoffier (Villeneuve-loubet):
If you're looking for an "Accrobranche" (tree climbing) park near Nice, this wooden structure playground is for you. The Eco Parc des Plans offers a wide range of activities, including balance logs, rope courses, and giant swings. More information
8. Etang de Fontmerle (Mougins):
Known to locals as a jogging and dog-walking spot, Etang de Fontmerle attracts families with children. Feeding ducks and observing blooming water lilies make for a perfect outdoor summer activity. More information
9. Le Parc de Loisirs (Opio):
A vast leisure park where you may encounter amateur cyclists enjoying the surroundings. It offers play structures for children and a sports course for parents from Monday to Saturday. More information
10. Jardin d'Alexia (Mandelieu-la-Napoule):
A relatively new park with accessible play installations for people with reduced mobility. It features a unique device—an accessible merry-go-round that can accommodate two wheelchairs and six children. More information
Having family fun with outdoor activities is a way to escape the daily routine while spending quality time with your children. Whether on an extended vacation or a weekend getaway, explore tennis with your children at the prestigious tennis academy within our resort, the Mouratoglou Academy, offering camps for all ages and levels throughout the year. For parents, access to a fitness room with group classes is available while waiting for training to finish.
So, don't wait any longer to discover these family experiences and book your stay at the Mouratoglou Hotel & Resort now!