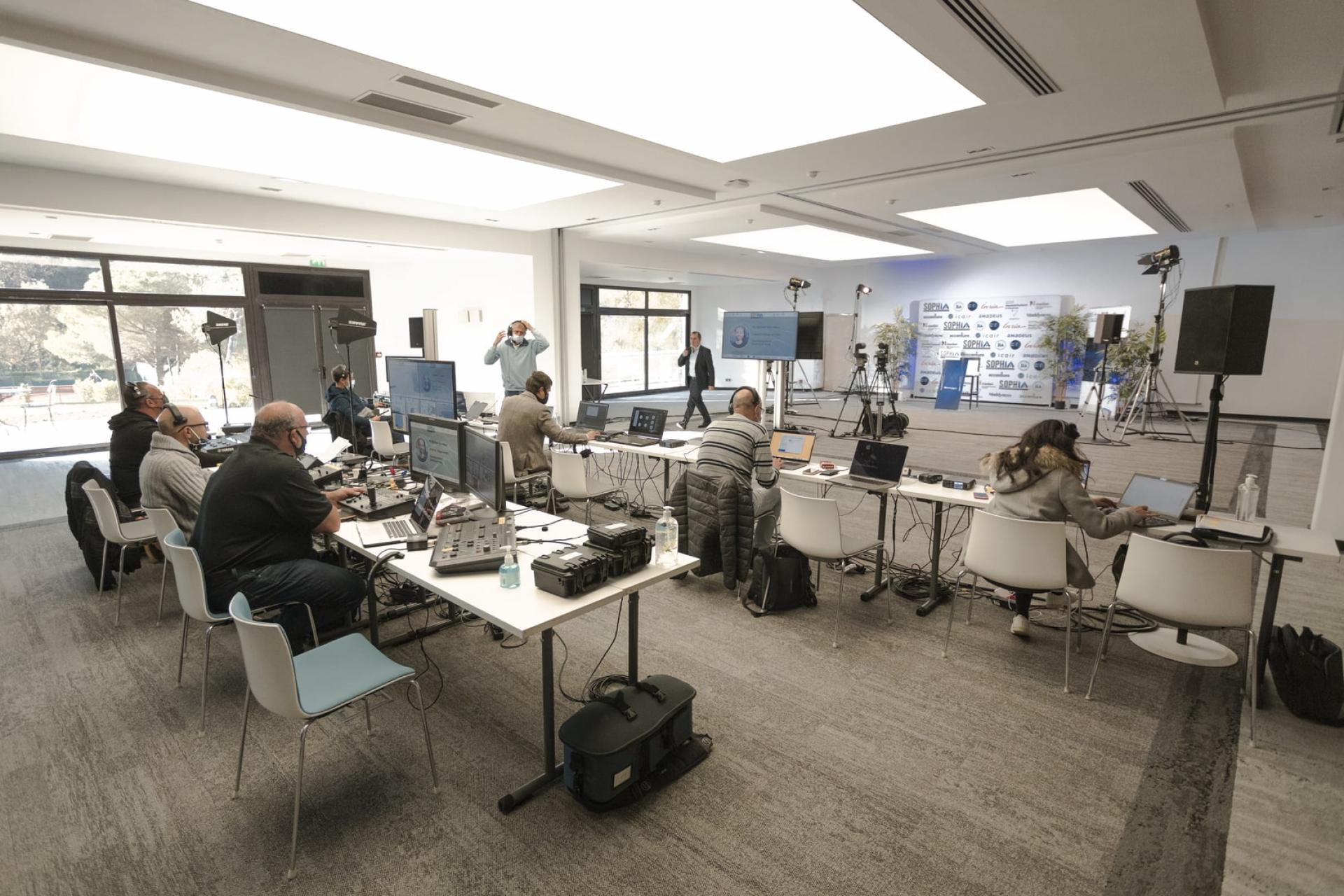 The organization of the Sophia Summit at the Mouratoglou Hotel & Resort
In the fall of 2020, the Sophia Summit took place at the Mouratoglou Hotel & Resort. It was a three-day scientific Web TV edition held within our exceptional sports resort located on the French Riviera.
In the fall of 2020, we had the honor of hosting the renowned Sophia Summit at our facilities. Everything was designed so that the multiple speakers, presenters, and technicians could conduct a Web TV edition that met their expectations.
Over 3 days, the transcription of scientific conferences took place in the flexible spaces of the Mouratoglou Hotel & Resort, ideal for any type of corporate seminar. Our clients benefited from state-of-the-art audiovisual equipment, including an ultra-high-speed internet network that allowed over 300 simultaneous connections per day. Our premises were transformed into a true professional studio: cameras, projectors, computers, not to mention the team of technicians we mobilized. Our spaces are spacious and modular to suit your needs: they can accommodate 150 people for a residential seminar, 400 people for a day of study, cocktail, or team building. Experience the behind-the-scenes atmosphere of this 2020 edition on Youtube.
Our partners also appreciated our high-end catering, as well as our numerous outdoor spaces in the enchanting Mediterranean setting. Indeed, the Mouratoglou Hotel & Resort, located in the heart of Valmasque Park in Biot, offers a charming natural environment characteristic of the French Riviera. Our sports resort is ideally located, 15km from Nice Airport, and easily accessible thanks to its free parking with 150 spaces at your disposal.
It is always a pleasure for us to host events that carry value, such as the Sophia Summit, which contributes to the advancement of science and promotes the European technopole of Sophia Antipolis and artificial intelligence.
Feel free to contact us so that we can make your event a success: all our spaces are available for private use. We leverage our skills and our commitment to selecting the best partners to ensure a complete service, from catering to decorators.
For any seminar project, we commit to ensuring your satisfaction while respecting the health measures facilitated by the spaciousness of our facilities. Whether it's a day of study or a multi-day seminar for which we provide our high-end accommodations, you can rely on our responsiveness, expertise, and attention to detail.
Tell us more about the event you are planning to organize: please contact our team by filling out the form below.
WEB TV SCIENTIFIC EDITION | TECHNICAL & PROFESSIONAL EXPERTISE | STUDIO RENTAL OVER 3 DAYS​
A WORD TO SUMMARIZE OUR EXPERIENCE: TOP!
From November 18th to 20th, the Sophia Summit held its third edition at the Mouratoglou Hotel in Sophia Antipolis, for the first time in the form of a Web TV. Three days of streaming content, including live discussions, recorded conferences, video communications, and promotional TV shows dedicated to Sophia and artificial intelligence.
Our studio was set up in the Grand Chelem rooms, which provided ample space to install the A/V infrastructure while ensuring the necessary health distances for the team members. The setup was exceptional, technically convenient with an ultra-high-speed internet connection meeting technicians' expectations.
Some key figures from the 2020 edition:
• 3 days of Web TV via 2 different streaming platforms
• An international scientific program: 15 speakers, 28 conferences, 2 roundtable discussions
• 400 minutes of video content
• A professional studio including 3 cameras, 4 stage projectors, about fifteen computers, a complete control room, and tens of kilometers of cables
• 4 A/V operators, 4 Visio operators, focused on live broadcasts, in an atmosphere of professionalism and perfectionism
• A broad audience with over 300 individual connections per day
Etienne Delhaye, Executive Director of Sophia Club Entreprises