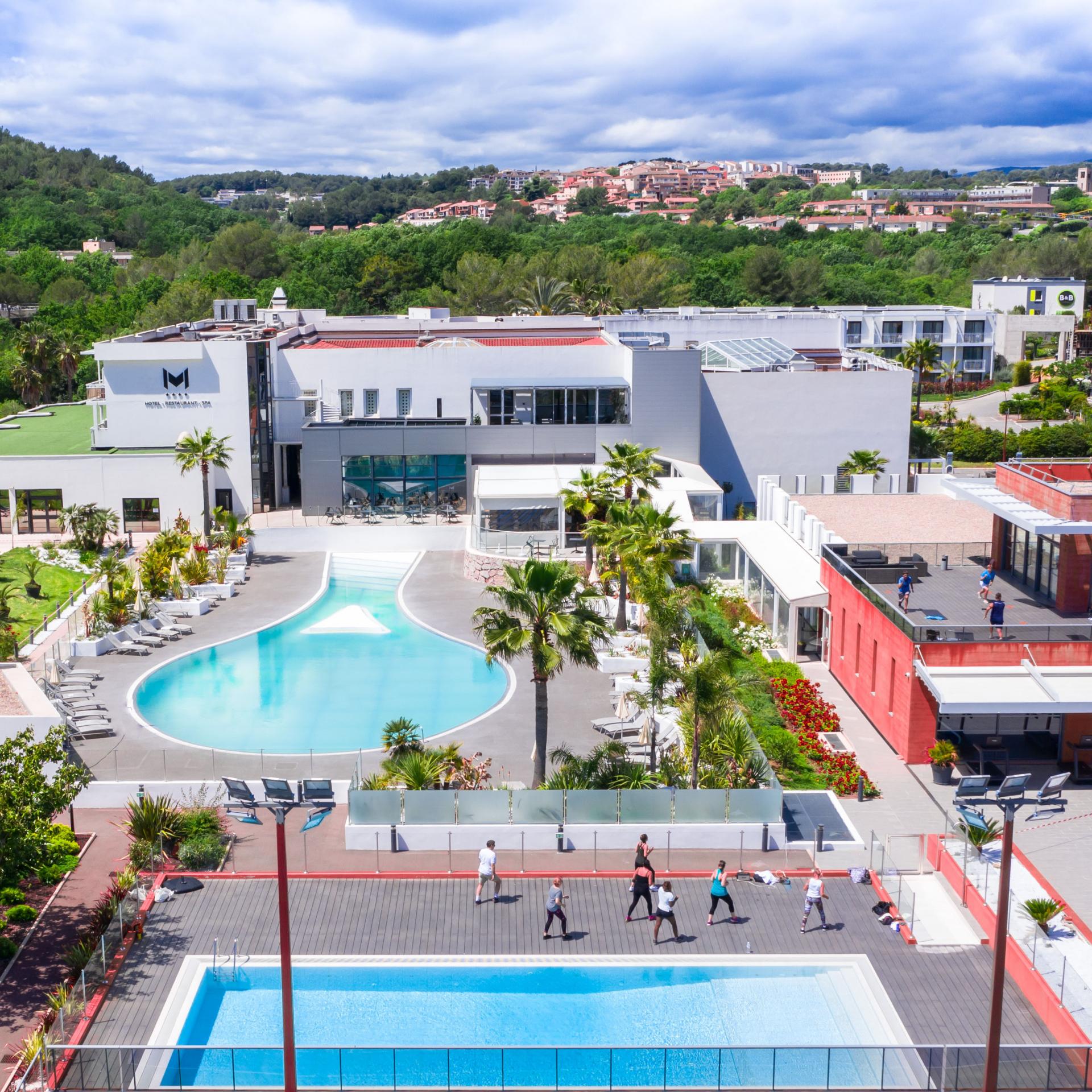 Spa hotel with a pool near Antibes
Discover our hotel with pools and sports activities for a wellness stay just steps away from Antibes.
4-star hotel with a pool near Antibes
Why stay in a hotel with a pool near Antibes?
If you're looking for a hotel with a pool for your stay around Antibes, the Mouratoglou Hotel & Resort is the place for you. The resort has two outdoor pools for your relaxation, as well as an indoor pool for aqua fitness classes.
Discover the services of our hotel near Antibes
A wide range of 4-star services is offered at the Mouratoglou Hotel & Resort to allow you to have a unique stay. Among the services provided by the hotel, you can enjoy the numerous sports facilities available, such as the tennis courts of the Mouratoglou Academy, the most prestigious tennis academy in Europe, which shares the environment of the resort. For relaxation, take time for yourself at the Spa Cinq Mondes and the hotel's pools, as well as their Pool Bar where you can enjoy a cocktail from your sun lounger.
The rooms of the Mouratoglou Hotel & Resort
Concerned with offering a diversified offer that can meet the expectations of each guest, our hotel offers three types of rooms. Discover 155 air-conditioned, soundproofed rooms with their own private terrace. Suites or rooms, it's up to you to choose what suits you best.
Activities to discover around Antibes
The city of Antibes on the French Riviera is full of activities for all ages. Whether you're a fan of water sports, cultural outings, or looking for unique experiences, you'll find something to keep you busy in Antibes. Between tradition and modernity, Antibes is a city that is full of treasures to discover.
Who is the Mouratoglou Hotel & Resort pool hotel for?
Whether you're with family, as a couple, or solo, for business or to enjoy a relaxing stay, everything is planned for you to feel comfortable in this hotel with a pool near Antibes. At the Mouratoglou Hotel & Resort, you are welcomed in an idyllic setting conducive to relaxation. All the ingredients are brought together for a sunny break on the French Riviera.