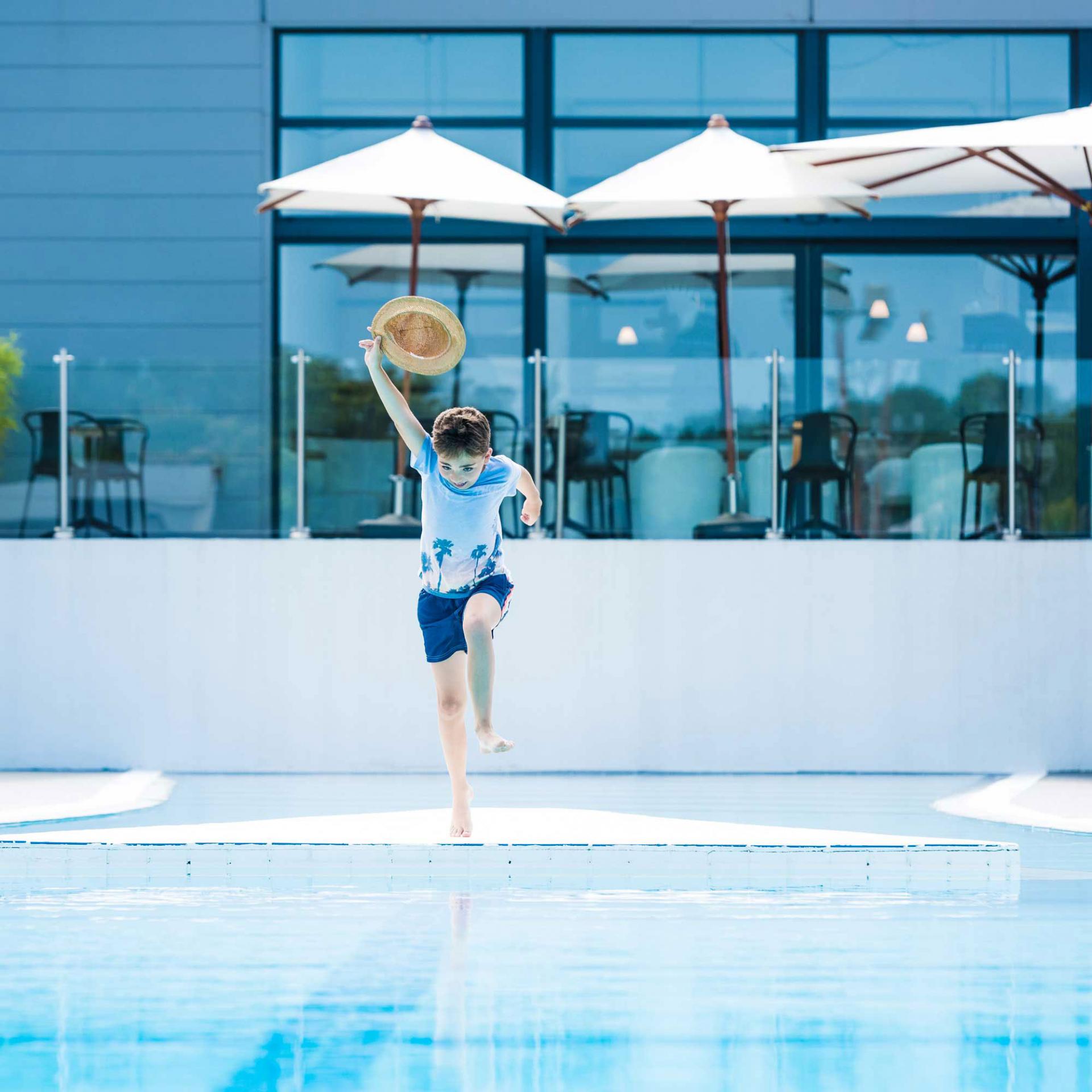 Hotel with a pool near Cannes
Discover the Mouratoglou Hotel & Resort, a 4-star hotel. With its pools and sports activities, it's the ideal place to relax during a business or family stay.
4-star hotel with a pool near Cannes​
The Mouratoglou Hotel & Resort welcomes you throughout the year in an exceptional environment. Located in the Alpes-Maritimes, our hotel will charm you.
Why stay in a hotel with a pool near Cannes?
The French Riviera is a beautiful region in the south of France. Staying in a hotel with a pool near Cannes allows you to lounge by the water without having to travel to the sea, thus enjoying all the necessary space and absolute tranquility.
What services does the Mouratoglou Hotel & Resort pool hotel offer?
In addition to its two pools, including the iconic main pool shaped like a tennis racket, this hotel is equipped with Wi-Fi, free parking, a spa, a fitness room, tennis courts, and a variety of collective sports activities. You can also dine and have breakfast on-site, as the establishment has a restaurant with gourmet and Mediterranean cuisine.
What types of rooms are offered by the Mouratoglou Hotel & Resort pool hotel?
This hotel with a pool near Cannes consists of 155 cozy and spacious rooms and suites, ranging from 24 to 35m². Each room has its own private terrace and all the necessary amenities for your stay.
Whether alone or as a couple, choose a superior or executive room according to your needs. For families, the executive family room can accommodate up to 2 adults and 2 children. Our hotel also has spacious junior suites with a living room. Finally, the hotel has five rooms accessible to people with reduced mobility.
What activities can be done in Cannes?
The Cannes region caters to all tourist desires. Cannes is known for its luxury shops and is also visited for its architectural heritage. Moreover, a stroll along the Croisette already offers a glimpse of the famous Riviera.
In spring, events such as MIPIM or the Cannes Film Festival will attract professionals from the industry as well as the curious.
Is the Mouratoglou Hotel & Resort pool hotel right for me?
Families can enjoy the pleasures of the pool and family rooms. Activities for children will free up parents for a few hours thanks to the Kids Club open in the summer. Finally, couples on a weekend getaway can relax peacefully with massages offered in our spa, to be enjoyed after a day full of sports activities.
Our hotel with a pool near Cannes is also perfect for business trips. Take advantage of its numerous seminar spaces and its gastronomic table to meet with your collaborators.