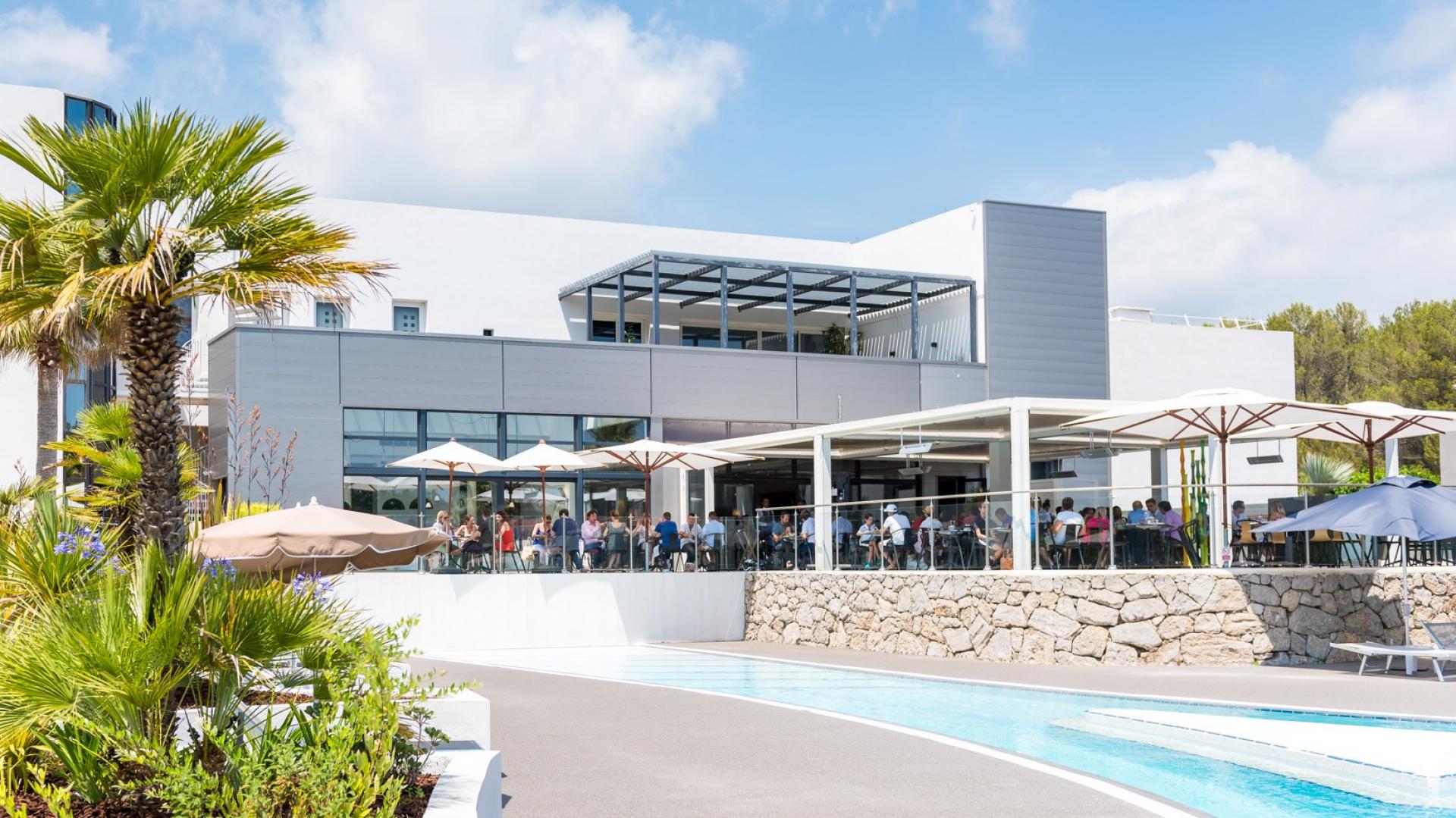 Hotel with a pool in Biot
Explore the Mouratoglou Hotel & Resort located in Biot, near the Valmasque Park.
Hotel with pool near Biot​
Choose an iconic hotel with a pool in Biot
Located in the heart of the Sophia Antipolis technopole, the Mouratoglou Hotel & Resort is a 4-star resort with unique amenities. In addition to the pools, you will find a spa and various sports and wellness activities. Explore our services and activities for a unique stay on the French Riviera.
Why stay at our hotel with a pool in Biot?
Choosing our establishment means enjoying a hotel with a pool in Biot in a rich environment. Looking for relaxation? Enjoy breakfast with a view of one of our pools. Our restaurant Les Loges welcomes you with its buffet of varied flavors. Then, nothing beats recharging with the treatments and services of our Cinq Mondes spa. For more dynamism, our resort also offers a multitude of sports activities. Finally, end the day with a relaxing session by the pool, savoring a cocktail from your sunbed thanks to our Pool Bar. Whether it's relaxation or sports, you'll find the activity that suits you.
What types of rooms are offered at the Mouratoglou Hotel & Resort?
You will find 3 types of rooms and suites in our hotel. For up to 2 adults and 2 children, choose our Junior Suites for a bright and spacious area. Their lounge is equipped with complete amenities. To make the most of our natural setting, opt for an Executive and Family room, which can accommodate up to 2 adults and 2 children. Finally, in a neat and modern decor, our Superior rooms offer an area of 24 m2 in addition to a terrace for 2 people. All our rooms and suites are equipped with wifi, a mini bar, and include access to the spa and fitness area. You can park your vehicle in one of our 150 free outdoor parking spaces.
What services can I find at the Mouratoglou Hotel & Resort?
Spa, restaurant with terrace, sports activities... Discover our numerous spaces. Our teams are at your disposal during your stay to make it the most beautiful experience. Everything has been designed for your comfort and tranquility, with spacious and quiet spaces, open to the outdoors.
What activities can be done in Biot?
A small village with picturesque arches and stone buildings, Biot is a place where art is expressed in all its forms, from the Fernand Léger National Museum to its famous glassworks where you can admire glass blowers.