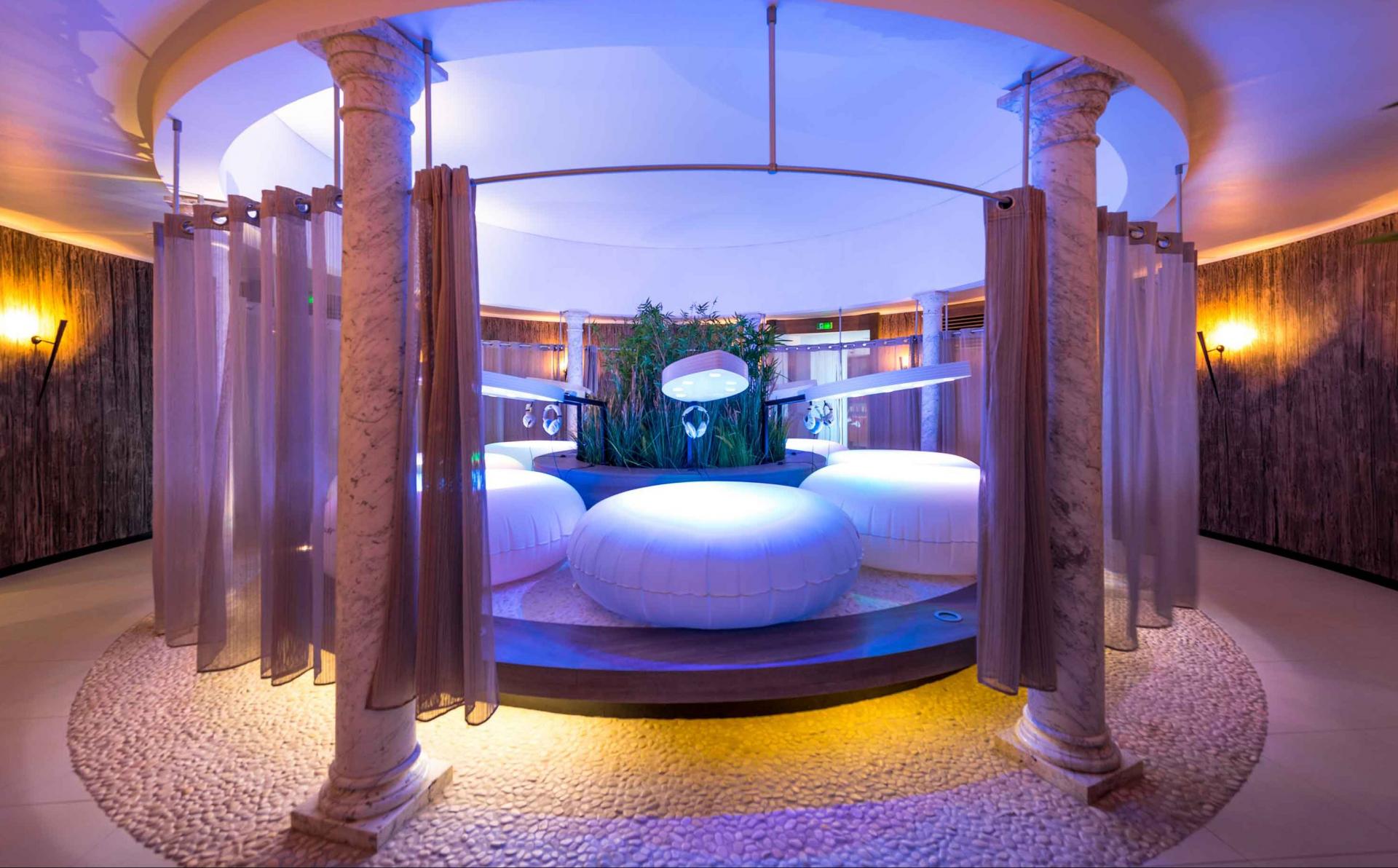 4-Star Spa Hotel Near Cannes and Antibes
Ideally located on the French Riviera, Mouratoglou Hotel & Resort welcomes you to a luxurious setting with its Cinq Mondes Spa.
Why Stay in a 4-Star Spa Hotel?
Mouratoglou Hotel & Resort invites you to experience luxury and comfort. With meticulous design, modern furnishings, contemporary decor, and the utmost tranquility, you are guaranteed optimal satisfaction. Whether you're traveling solo, with a partner, or as a family, for leisure or business, the services are tailored to your needs to simplify your life. Don't hesitate to opt for the half-board package for even more convenience.
What Services Does the Spa at Mouratoglou Hotel & Resort Offer?
During your stay, Mouratoglou Hotel & Resort provides access to its 700m² Cinq Mondes Spa for relaxation and serenity. Customized treatments are offered to best meet your needs. Whether it's about getting in shape or unwinding, the infrared sauna and steam room harmonize for maximum well-being, not to mention the terrace and tea bar for relaxation.
What Types of Rooms Does the 4-Star Spa Hotel Mouratoglou Hotel & Resort Offer?
Mouratoglou Hotel & Resort offers 3 types of rooms and suites, ranging from 24 to 35m² in size. Spacious and bright, Superior rooms open onto a private terrace. Soundproofed, they provide comfort and tranquility. As for Executive & Family rooms, they can accommodate up to 2 adults and 2 children. Finally, Junior Suites include a living room and full equipment.
What Experiences and Activities Can You Enjoy Around Our 4-Star Spa Hotel?
Various activities are accessible in the PACA region around Mouratoglou Hotel & Resort. Wine tourism enthusiasts have plenty of options with the Provence vineyards like Château de Crémat and Domaine Saint-Joseph. Hikers also have numerous trails to explore both on land and by the sea. Discover the charming Provençal villages of Biot and Valbonne. And a visit to the Côte d'Azur wouldn't be complete without a trip to the beach, including the beautiful Riviera of Cannes and Antibes. Take advantage of the resort's many sports facilities for some recreational fun, including tennis, padel, fitness, and the pool. Explore all these activities in a prestigious environment shared with the Mouratoglou Academy.
Who Is the 4-Star Spa Hotel Mouratoglou Hotel & Resort For?
Mouratoglou Hotel & Resort is ideal for both romantic getaways and family vacations. Its location is also perfect for exploring the French Riviera. Moreover, our 4-star spa hotel is a perfect address for business travelers in search of comfort and tranquility. Business travelers, treat yourself to a well-deserved break at the spa after your appointments in Sophia Antipolis.